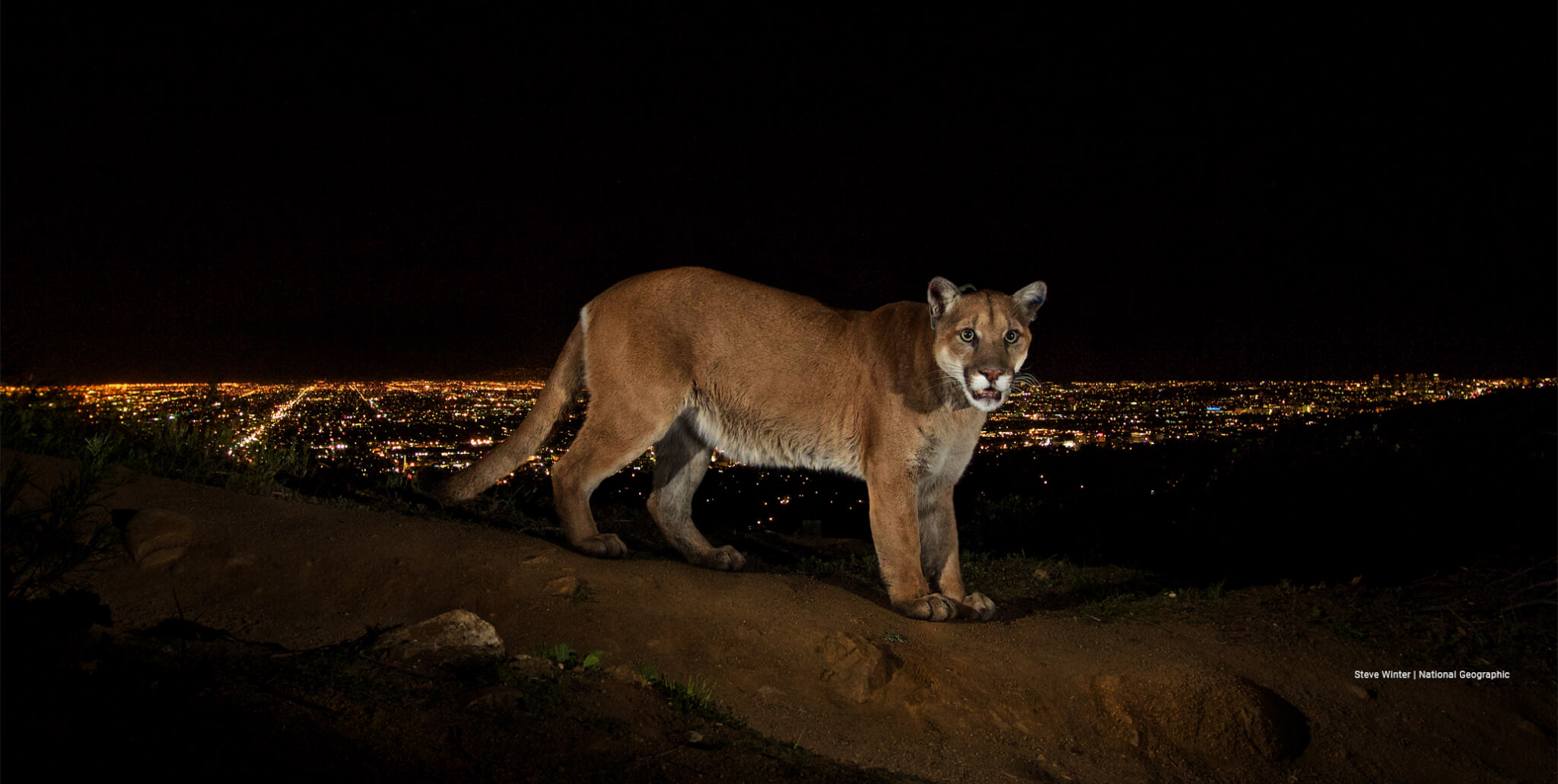 wildlife activists need $60 million - by Louis Sahagun
To build a bridge for mountain lions,
CHECK OUT OUR FEATURE IN THE LA TIMES!
#SAVELACOUGARS
HOLLYWOOD MOUNTAIN LION, P-22
MAKE DONATION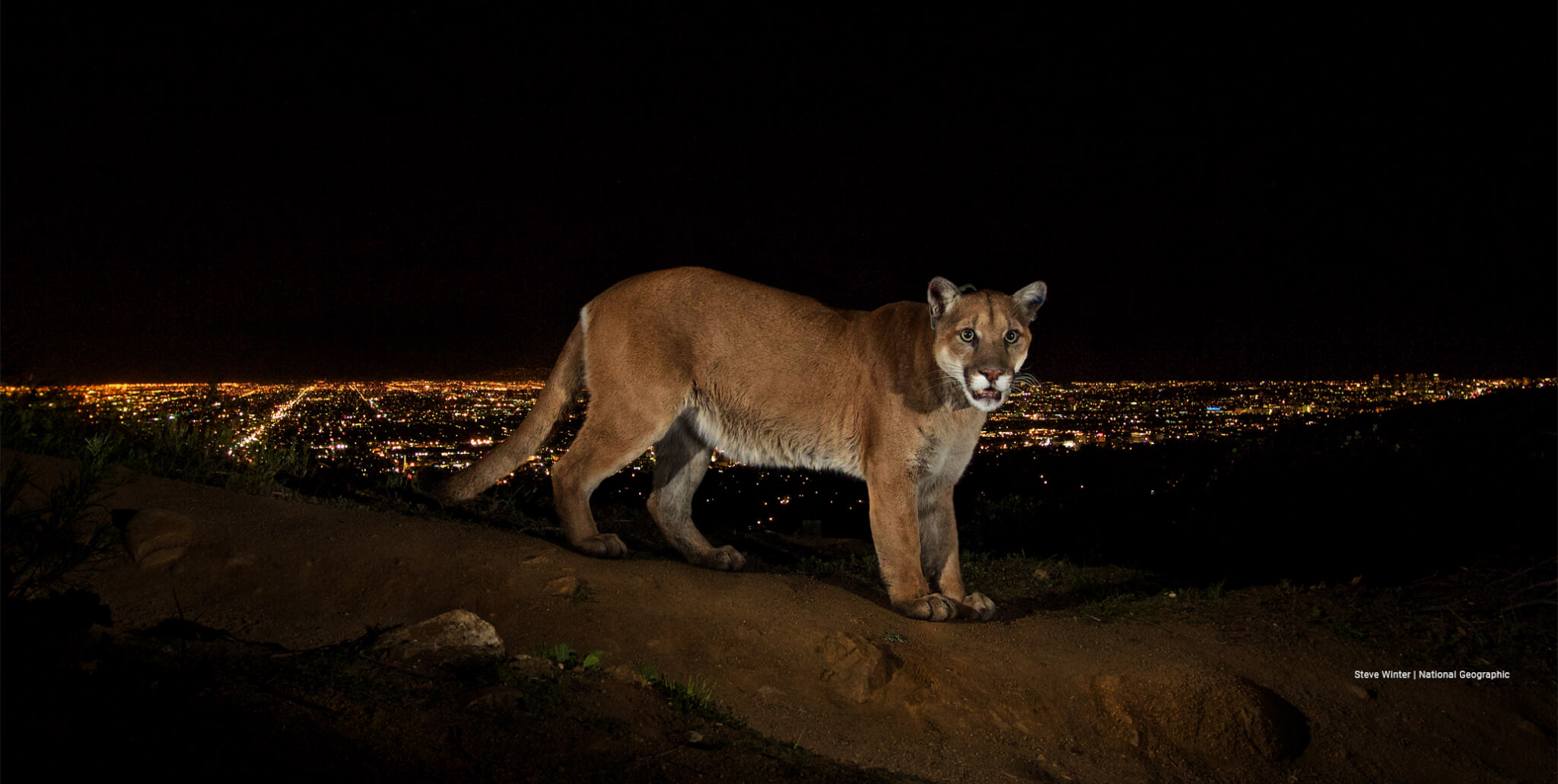 "ISO: LADY LIONS, HELP ME FIND SOME!"
DONATE TO HELP US
#SAVELACOUGARS
HOLLYWOOD MOUNTAIN LION, P-22
THE CAUSE
MAKE DONATION
DONATE NOW!
Join the thousands of people helping to #SaveLACougars by donating to the Wildlife Crossing Project.
SHOP OUR STORE
Do you know someone who loves cougars? Check out all the things you can buy for the cougar-lover in your life!
SIGNUP FOR UPDATES!
Stay connected to your favorite mountain lions and receive important updates from #SaveLACougars by joining our mailing list!
 We are in our third phase of fundraising for the wildlife crossing and are working towards reaching our $10M goal by December 2018. This phase is a critical part of the project and where you can make a real difference! It allows for the final design and engineering to be completed. Then we will move into the fourth, and final phase, construction.
Newly released design concept of wildlife crossing at Liberty Canyon: October 2018.
THE CAUSE
THE WILDLIFE CROSSING
We all know LA traffic is a nightmare, but not only for humans. Our traffic is killing precious wildlife. Mountain lions living near Los Angeles are facing extinction and being killed attempting to cross the freeways. The National Park Service (NPS) reports that since 2002, they have studied over 60 mountain lions in the Santa Monica Mountains area and have found one main issue: their homes have been cut off. Busy Freeways and urban development throughout Los Angeles has created a population of lions with the lowest genetic diversity measured anywhere in the entire U.S. outside of Florida panthers. These roads have killed 17 lions since the study began.
The only thing that can save these big cats is the ability to move between regions. With multiple large freeways surronding the lions, the National Wildlife Federation partnered with the Santa Monica Mountains Fund and large community of supporters to create the #SaveLACougars campaign. This campaign focuses on building something really cool: a wildlife crossing over the 101 freeway at Liberty Canyon, for animals to use and safely cross above 10 lanes of LA traffic. With your help, we're going to re-connect a precious ecosystem.
ABOUT US
The #SaveLACougars campaign kicked off in 2014 with the goal of saving and protecting the mountain lions of the Santa Monica Mountains. Read more about our efforts and the team fighting to save these cats from extinction.
WHY IT'S IMPORTANT
We all know LA traffic is a nightmare, but not only for humans. Our traffic is killing precious wildlife. Join the National Wildlife Federation and the Santa Monica Mountains Fund to protect our Angelino cougars.
Prefer to donate by check? Make your check out to National Wildlife Federation with #SaveLACougars in the memo line. Mail your check to Beth Pratt, NWF, PO Box 64, Midpines, CA 95345. Thank you!
THE VR EXPERIENCE
See the world from a mountain lions perspective with our virtual reality experience!
SHOP
Flaunt your support by rocking some #SaveLACougars gear! Visit our shop and browse t-shirts, bags, posters and more!
GET INVOLVED
MEET THE COUGARS
BE THE FIRST TO READ
LATEST NEWS
THE NATIONAL WILDLIFE FEDERATION NETWORK
THANK YOU
LEADERSHIP DONORS
California State Coastal Conservancy | Annenberg Foundation
Leonardo DiCaprio Foundation
MAJOR DONORS
Boeing | Michael Piuze Foundation | India Blake Foundation | Johnson Family Foundation
Gwendolyn Sexton Foundation | Susan Gottlieb Foundation | Burnam Charitable Foundation
Helmut and Patricia Meissner| Baltoro Trust